Sydney's Top Irrigation & Landscaping Services to Create Your Dream Home
Get nature's beauty right outside your home with a dense, green garden from the best landscapers in Sydney. We are experts in designing tailor made irrigation systems that serve your garden a purpose.
Crafting beautiful landscapes since 1990, you can be rest assured looking for residential landscape maintenance services, as we hear our clients' requirements and serve accordingly. Whether installing a new irrigation system, enhancing an existing one or repairing your existing system, Dr. Garden will make the entire process simple for you.
With 35 years' experience in irrigation installation in Sydney, our irrigation experts understand all types of irrigation systems to suit your garden. There is also an irrigation maintenance system, starting at a minimal pricing of $90 + GST service call out fee to investigate your system; we provide our expert services for an hour to examine the existing irrigation system and offer a quote for any repairs that may be required to ensure your system is working at its optimum level.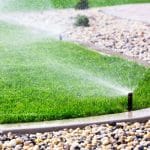 Professional Landscaping Services:
A dream home is an ultimate destination for a lot of people in life; we do understand and respect the importance of this; hence, our team is dedicated to providing all that's required to make a perfect outdoor setting for your home, from construction landscaping to irrigation installation in Sydney.
Now no more relentlessly searching on Google for, 'best irrigation companies near me'; you can just call us or go to our website and send us an email via our contact page.
– Be it a renovation of existing landscaping or creating a new space we have an extremely professional approach to all our projects.
– All projects, from irrigation to drain installation services; our committed team of landscapers schedule the right tasks in an appropriate manner to get the project completed in a timely and professional manner.
You'd be excited to know that we are known for our expert retaining walls and irrigation installation in Sydney; amongst all other construction landscaping requirements that we've mastered through the years.
Here's how irrigation installation in Sydney will be an advantage to you:
We know you are looking to install irrigation services in Sydney. Having a lush green landscape just as one steps out of a house is a dream for many. A well-maintained lawn requires special care and attention; we have a bunch of enthusiastic garden experts who can help you achieve the dream by setting up the right sprinkler system for a healthy garden atmosphere.
If you are constantly searching on Google, 'best irrigation companies near me'; look no further. Dr. Garden will make the entire process simple, cost-effective and suitable for your property.

Key Benefits of the Service
Watering your lawn and is the key to preserving its lushness and beauty. The experts carefully design your sprinkler system to ensure maximum coverage to your lawn. Whether you are looking for a brand new irrigation system to maintain your lawn.
➢ Lush, Green atmosphere surrounding your home
➢ A garden surrounding that grows lush with each season and passing year
➢ Guaranteed Services
➢ Team of expert landscapers with trained knowledge
Want us to call?
Fill in the form below and one of our friendly experts will be in touch!
Are you looking for artificial grass installation services in Sydney instead of irrigation systems? Dr. Garden is one of the most trusted in artificial grass installers.
FAQs
We advise watering your new lawn once a day. In the warmer months, when temperatures reach 28 – 30 degrees, we recommend watering twice a day. During the cooler months or when there is more natural rainfall, you may need to monitor your water and adjust accordingly. Don't worry, when the task is completed, our specialists will also guide you.