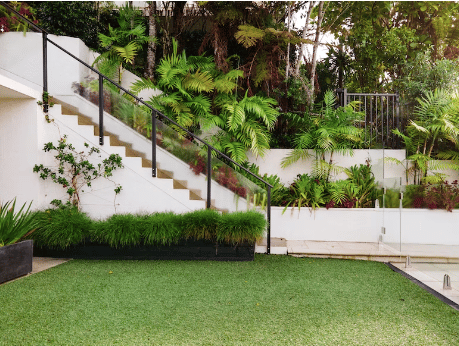 One can have many reasons to install artificial turf in their backyard or in an area that is just eating dust at the office which can be transformed into a gaming area of sorts. Synthetic grass is used to make turfs for many purposes like creating a play area for kids or to just accentuate the look of your property. 
Artificial grass installation in Sydney is quite easy to perform on your own once you've wrapped your head around the basics. But, you have to consider a few things that are used in the manufacture. These five components are important when it comes to synthetic grass installation in Sydney: 
Backing 

Sub-fill 

Infill 

Yarn

Nails 
Every individual component mentioned above is made of different materials and functions according to its manufacture, i.e. the way it is designed to function. Let's get into the details of each component to understand their functions better!
Backing 
Everything depends on the support structure for the synthetic turf. For obvious reasons, support is going to be the most important thing in this process to get it up and running. Hence, the backing material is to be paid utmost attention to.
When looking into the material for backing, be specific about the level of durability it brings to this project. It is always better to be conscious about what we buy and what can we do to make environment-friendly decisions. You can use latex or polyurethane to ensure that your little project lasts long. 
Seaming
Seaming is used to join all the individual pieces that will make the turf length together. Again, choosing the right material for this process is key. The chief choices in terms of materials for this step are seaming tape and glue, sodded staples, and industrial double-sided tape. 
All these materials come with their own merits but also have a few shortcomings. The elements chosen above for this step include climate, cost, and sub-base materials as options. 
You may think that seaming tape and glue are more expensive but they provide the perfect long-lasting concealing fix for this seaming process. On the other hand, during soaring temperatures, you can use double-sided tape which later comes off easily. 
Infill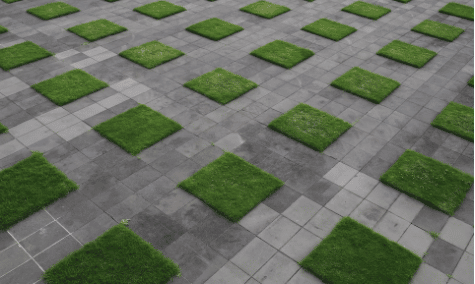 Apart from keeping it straight, infill also helps execute a series of purposes for the construction of artificial turf. Direct sunlight and prolonged exposure can shorten the lifespan of your artificial turf. 
This is where infill comes in, infill helps keep the backing protected. Apart from protection, it also adds durability and weightage to your lawn! It also increases the burden for matting prevention and can help the grass spring back after receiving heavy traffic! 
Nails
The function of nails is pretty self-explanatory. It helps keep the edges of your set-up in place and helps secure all the components. 
Yes, common nails can easily do the job while skilled installers can advise you on the right shape and size that fits your requirement the best and keeps everything secure! 
Yarns 
The yarn is the one part of this entire set-up that will be interacting with everyone the most — people walking on the grass, playing on it, laying on them, etc. 
The production process of yarns is complex but the result is comfortable, durable, and the selling point for many. Yarns differ in performance and the colour fades eventually. So choose a darker colour to not have your yarn lose its touch! 
If you need help with a residential garden maintenance or require the assistance of experienced landscape contractors in Sydney, Dr Garden will be happy to help!