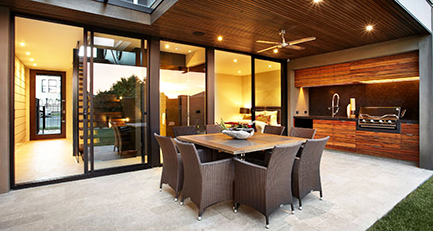 Australian's love relaxing in the great outdoors, especially during the warmer months. An alfresco living area can provide a great combination of shade, airflow and a comfortable place to entertain during the warmer days and nights.
It doesn't cost as much as renovating the inside of your home but an alfresco area adds an amazing living space to your home as an extension and really adds great value to your property. The options are endless, you can choose from decking or tiling, adding a kitchen / BBQ area, large screen TV's or even a pizza oven.
Here are 5 tips to design the perfect alfresco area by our team of landscapers in Sydney:
1. Size and Layout: This will largely depend on what activities you want to accommodate and the size of your block. Whether your alfresco is small and intimate or large and spacious, you'll want to create zones to separate various activities-such as cooking, conversation and relaxation-while allowing for good traffic flow throughout the space. When situating your alfresco, you will need to consider natural elements such as prevailing winds and sun orientation.
2. Privacy: Your alfresco area won't usually have walls, so if privacy and noise are concerns you'll need to install a privacy screen, laser cut screen, fence or tall landscaping plants between you and the neighbors.
3. Compliment your home: It's critical when designing your alfresco that it feels like an extension of the interior of the home. Extending your interior finishes to the exteriors ensures a seamless transition outdoors. Taking the flooring from the interior to the outdoors is a critical element. Utilizing the same bench top materials, similar lighting fixtures and even ceiling details are other areas to consider.
4. Go low maintenance: A high maintenance garden is a turn off for many home owners, who aren't too keen to spend their spare time weeding, pruning and mowing. Consider paving or pebbles instead of grass, and opt for hardy native plants that will look good without needing too much attention.
5. Lighting: People enjoy fresh air on a balmy evening. An outdoor space with suitable lighting can be used long into the night. Clever lighting will help create atmosphere and can highlight features of the home and garden.
For any landscaping requirements, please get in touch with our team of landscapers in Sydney at Dr. Garden here.