A retaining wall can function as a structural and beautiful feature in your residential property. Apart from improving your home's appearance and adding value to your property, retaining walls contain s soil and prevents potential erosion. Retaining walls can add beautiful texture that creates visual interest and balance within your landscape. It can act s as a complementary addition to your existing garden, driveway, or pathway. Installed correctly, retaining walls can serve an aesthetic and practical function. Most homeowners consider installing a retaining wall as a part of landscaping in Sydney. Expert garden landscapers like us can help you transform your garden into an idyllic place to unwind and relax with your family or friends.
In this article, you will understand everything about choosing the right retaining wall for your landscaping project.
Which One To Choose - Structural or Landscaping Wall?
Before considering building a retaining wall in your garden, it is essential to consider two main factors - Appearance and structural purposes.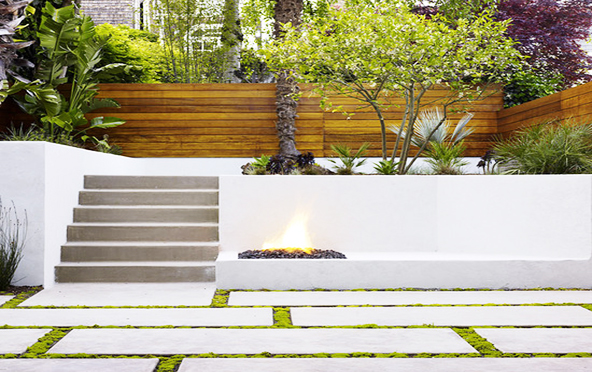 Appearance
Retaining walls being a hardscaping feature can offer your property a great visual appeal. Installing a retaining wall can add vibrancy and elegance to your garden or landscape. Most residential property owners install retaining walls to provide the most pleasing visual appearance they can.
Structural Purposes
Apart from offering an appealing appearance to your property and boosting the curb appeal, a retaining wall can prevent soil erosion. Some properties are prone to soil erosion due to rainwater flow or sloping issues. Installing a retaining wall can protect your property from any potential damage caused due to excess moisture, soil collapse, or landslides.
Homeowners consider their purpose of installing a retaining wall and focus on the same. To determine what is your purpose in building a retaining wall, ask yourself:
Do I want to build a retaining to add aesthetic value to my landscape?
Do I need a retaining wall to prevent potential soil erosion?
Do I need a retaining wall to add elegance and prevent soil erosion?
Should I focus on its design or functional features?
What type of material will be the best?
Types of Structural Retaining Walls
Once you set your priorities straight, think about which design will best suit your property. There are four common types of retaining wall designs. Let's understand each in general and what it has to offer you.
1. Gravity Retaining Wall
As the name suggests, gravity retaining walls use their own weight to prevent the movement of soil. Such types of retaining walls are typically constructed using heavy materials - stone and concrete blocks.
Simple design
Variety of looks (brick, pavers, and dry-stacked stone)
Ideal for short walls
2. Cantilever Retaining Wall
Cantilever retaining walls are constructed of reinforced concrete with steel bars inside. Such wall types are usually attached to a slab foundation that extends under the soil, giving the wall an L shape. The shape is responsible for keeping the wall in place.
Added strength
Ideal for tall walls
Can be premade
3. Sheet Piling Retaining Wall
Sheet piling retaining wall consists of a relatively thin layer of steel or wood placed directly into the soil.
Ideal for small spaces
Works in certain soils
May require anchoring
4. Anchored Retaining Wall
Such types of retaining walls are anchored directly in the soil with cables to maintain stability.
Used for several types of walls
Handy for special situations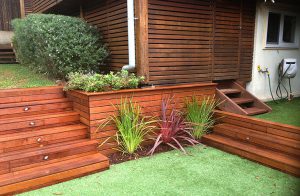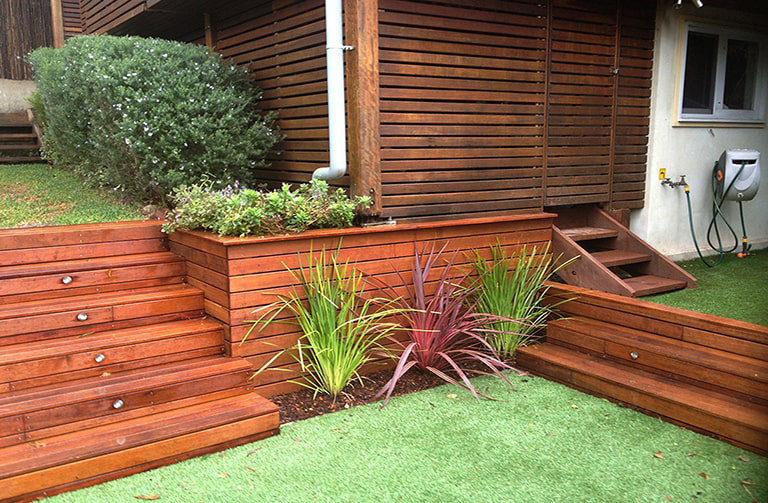 Choose The Right Material
After you decide on a retaining wall design, the next thing you would want to do is choose the right construction material to build. There are several types of building materials you can choose from including concrete, brick, and wood.
If building DIY retaining walls seems complicated or stressful, why not call an expert? With our landscape construction in Sydney, we have transformed thousands of residential properties. Contact us via our web page or call us on 1300 374 273 to get started on your landscaping project.